Hauptplatz
Covering some 13,200 m2, Linz main square has been one of Europe's largest enclosed squares since the 13th century. The centrepiece is the 20-metre high Holy Trinity column. Stroll around the square and admire the imposing facades of buildings that can tell stories going back centuries.
The main square and the lanes leading off it form Linz city centre. The bustling centre boasts impressive architecture, culinary highlights and a wide array of shops. Events of all kinds take place there all year round.
Neuer Dom - Mariendom
Linz's "new cathedral", the Cathedral of the Immaculate Conception, is an architectural masterpiece. It is Austria's largest church with room for around 20,000 people.
Join a guided tour and climb up to the inner gallery for fascinating views of the church's interior from a height of 15 metres. Tours of the tower, with spectacular views over the city, are highly recommended.
Ars Electronic Center
Not far from Hotel Wolfinger you'll find the "Museum of the Future". The AEC is regarded as the centre of the UNESCO City of Media Arts. As a visitor you will not only try out and explore pioneering technologies but will also be asked to cast a critical eye over them. The museum is a place of participation, research and discovery.
Der Pöstlingberg
The Pöstlingbergbahn electric railway takes you up Linz's very own mountain in comfort and from the main square itself. The observation platform gives you a panoramic view of the entire city and as far as the Alps. The pilgrimage church on the summit is the city's landmark and well worth a visit.
The Grottenbahn railway takes you down to a world of dwarves, forest animals and fairy tales. In the basement you trundle across Linz as it was at the turn of the 20th century, with Hotel Wolfinger present and correct too! And don't forget your handkerchief, because in Linz it is the custom to blow the noses of the dwarves on the Pöstlingberg. The Pöstlingbergbahn stops at Linz Zoo, so why not drop in for a visit?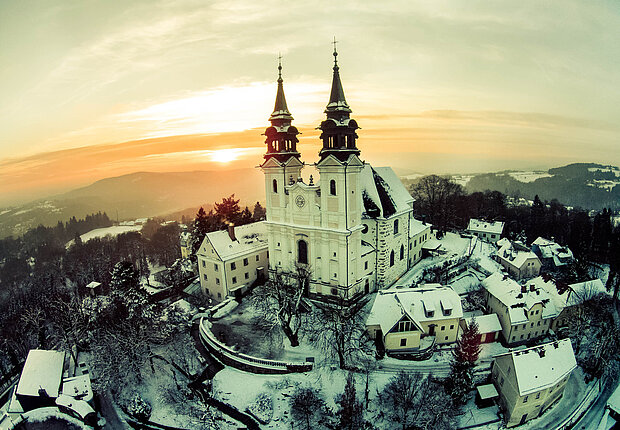 The Danube
Countryside in the heart of the city – enjoy, relax and celebrate on the banks of the Danube. A boat trip on the Danube, a detour to Alt-Urfahr beach, a picnic in the leafy Donaupark, a concert at the Brucknerhaus or a visit to the Mural Harbor – the river has something for everyone.
The Danube has a total length of 2,857 km, making it the second-largest and second-longest river in Europe. On its way to the Black Sea it flows through or borders ten countries – more than any other river in the world.
Useful information
Offers & Tips
Linz-weekend 2022
Experience an exclusive weekend in Linz.
2 nights in a double room, generous buffet breakfast, 3-day Linz-Card
€154,- p.p.